Connections with the mainland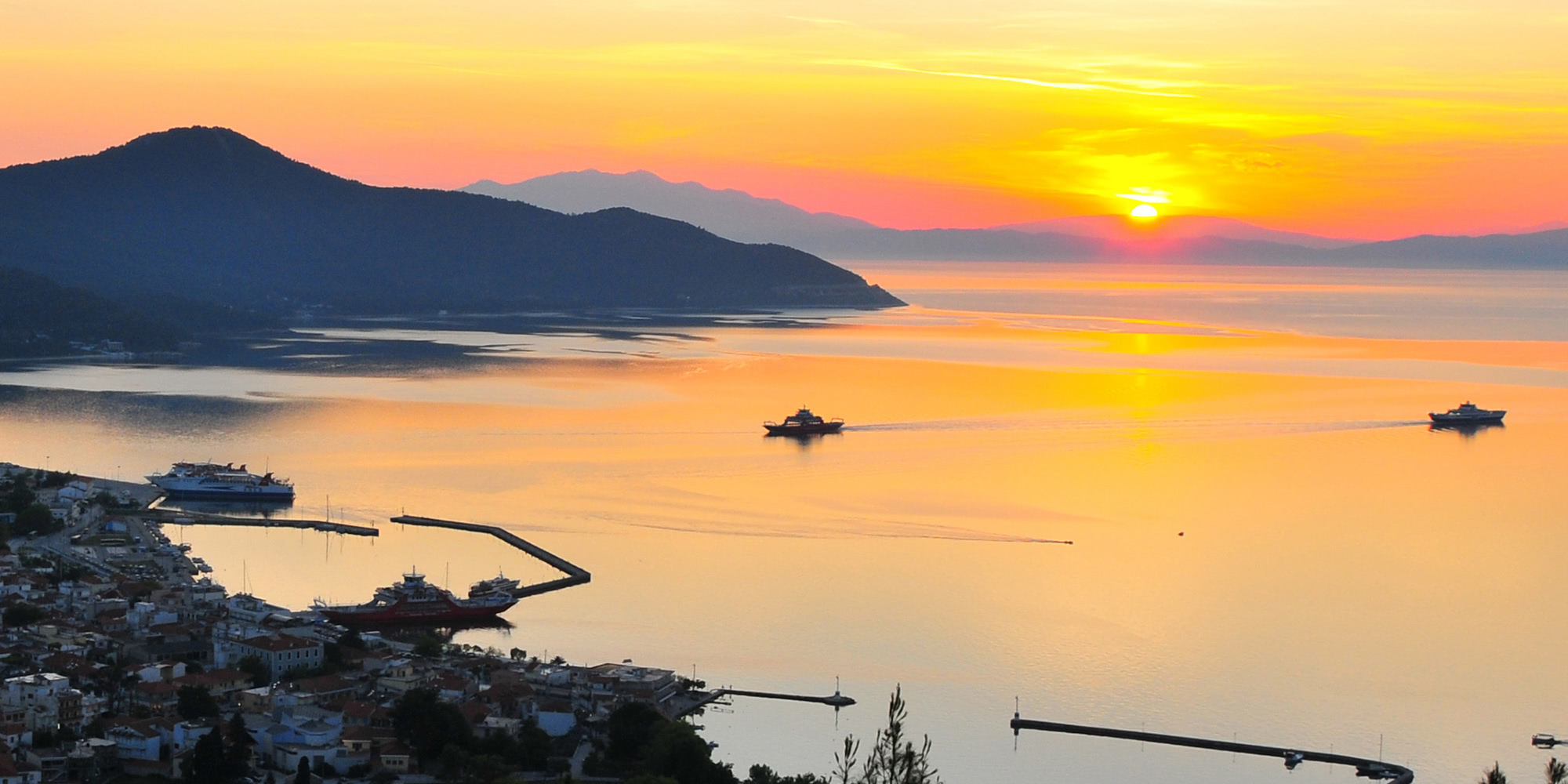 Thassos is very close to the Greek mainland at a distance of only 10 km from the port of Keramoti in Kavala. There is no airport on Thassos. The nearest airport for Thassos is the regional Kavala International Airport (Alexander the Great - KVA), promising you the shortest and most direct route to Thassos island. Although there are only a few direct flights here, it's a mere 15-minute drive to the ferry port in Keramoti. So you can fly to Kavala, then hop on a ferry to reach Thassos.
Thessaloniki International Airport (Makedonia - SKG) is the second and much bigger airport servicing Thassos. There is no ferry connection from Thessaloníki to Thassos.
You can take the bus or a taxi to Kavala and catch the ferry from there. You could also drive from Thessaloniki to Keramoti and take the ferry to Thassos from there. By car from Thessaloniki to Keramoti, it takes you around 2 hours.
There are two ports on Thassos, connecting the island with the mainland. The smaller of the two ports is in the village of Skala Prinos with daily connections to Kavala. The bigger of the two ports is in the island's capital, Limenas, with frequent connections to Keramoti. Both routes operate year-round, with expanded itineraries in the tourist season (from May to October).
---
Healthcare
Healthcare on Thassos
There is a good public health center on Thassos island. Besides this public facility, you will also find private health clinics on the island with private doctors. Due to the fact that the island is so close to the mainland, there are many private specialist doctors who have opened their own practices such as an endocrinologist, pulmonologists, and cardiologists.
---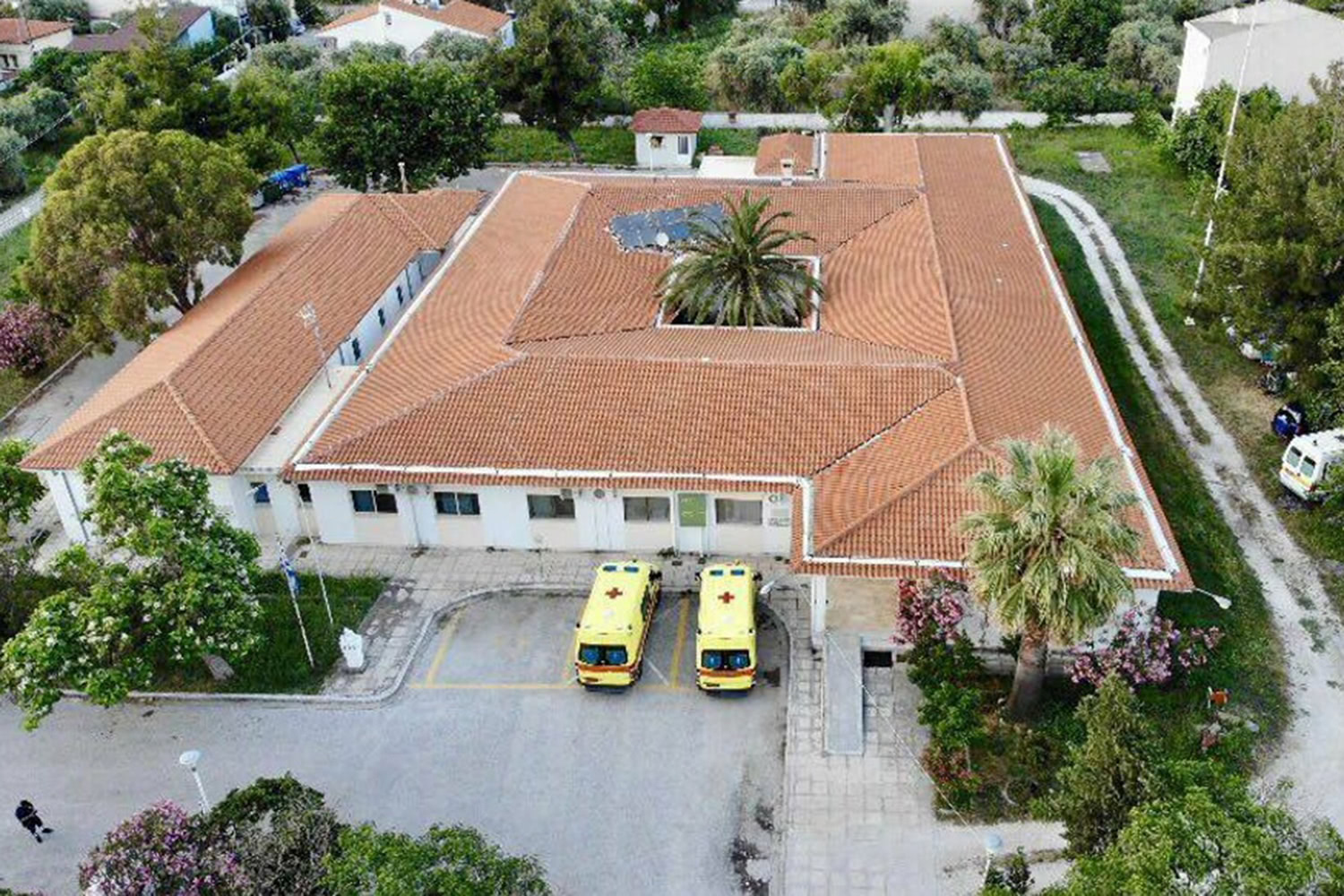 Healthcare for retirees
Retirees, especially, can rest assured that Thassos has the necessary health services and get good care without the requirement to leave the island. In case of serious health issues that cannot be treated on the island, people can divert to the public and private hospitals in Kavala and Thessaloniki. There is emergency care on Thassos, but there is no intensive care unit with beds.
---
Kavala hospital
Kavala public hospital is about an hour away from Thassos including the ferry boat ride. Thessaloniki has the best hospitals in the area, both public and private. They are a 2 hours drive away once you get across to the mainland. Thus, a total of 2,5 journeys. Airlifting (with the right type of insurance) can also be arranged in very serious situations.
---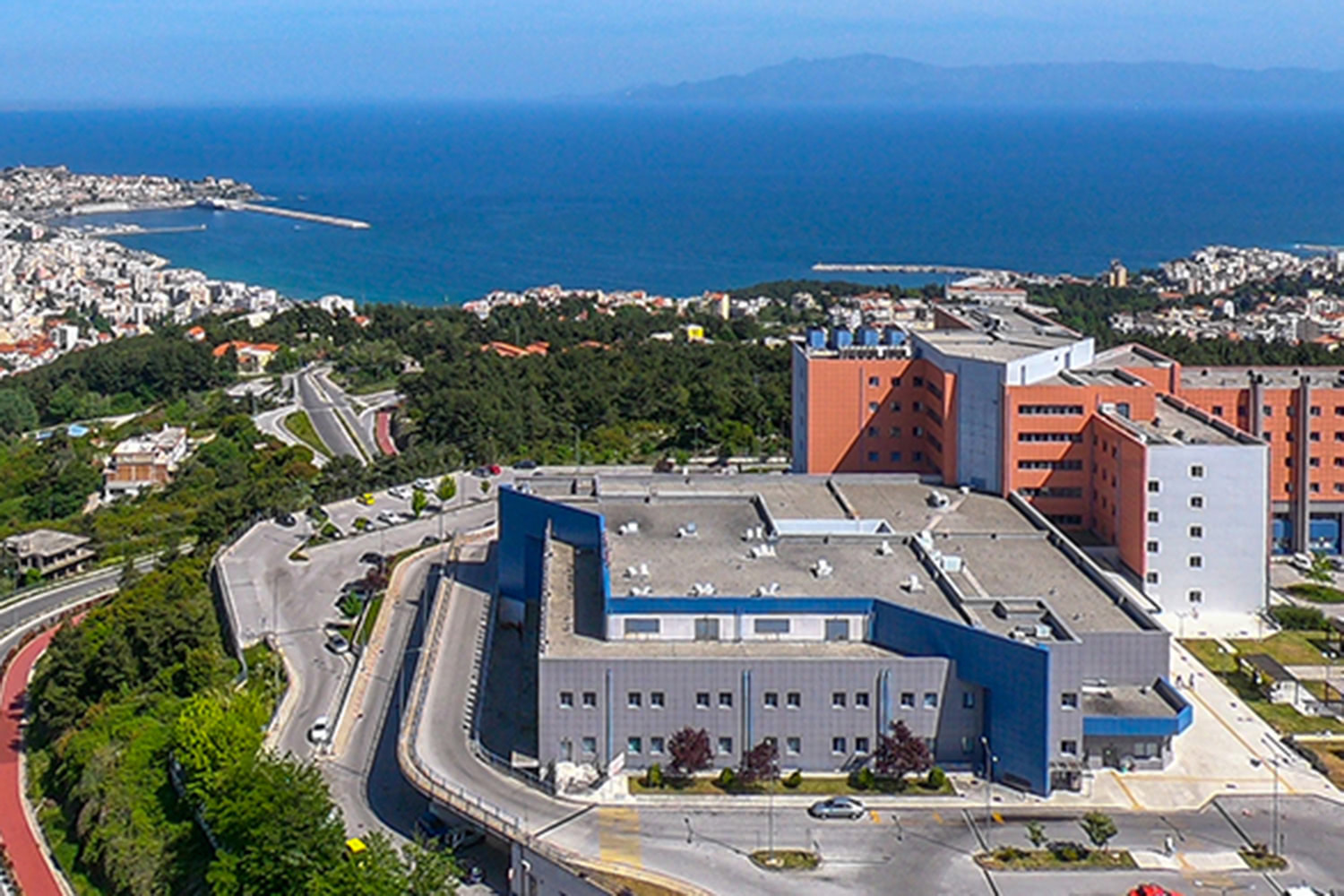 European Health Insurance Card (EHIC)
In some cases, depending on where you are coming from and what type of insurance you have in your home country, you are eligible for the public Greek healthcare system. European citizens can apply for an EHIC card. This is a free card that gives you access to medically necessary, state-provided healthcare during a temporary stay in any of the 27 EU countries.
---
Private health insurance
If you live in Greece, you can apply for state healthcare. Note that this is not completely free because you need to pay contributions to participate in the healthcare system (there are some exceptions). The Greek health system doesn't always cover everything, and it often subjects patients to long waiting times for surgeries compared with private healthcare. That is why it's recommended that you find a comprehensive private health insurance plan.
A combination of both public and private health insurance is truly the best solution for older seniors because private insurance does not cover all of their medications, which they must pay out of pocket. Public insurance covers most medications and pays the majority of the costs.
For more information about private insurance plans that are available, Go-Thassos recommends reaching out to a local insurance broker, Mr. Thanos Anagnostoudis.
You can find him on Facebook.
---
Administration
Greece is a bureaucratic country and it is important that you take lots of time to arrange your administrative setup. Applying for a tax number, the healthcare system, or setting up a phone line, takes more time in Greece than you may be used to in your home country. Before you arrive, translate and authenticate/apostille all your personal documents, such as your birth certificate, marriage certificate, or diplomas. This will make things much easier for the authorities.
House bills
Electricity, water, heating, and your phone and Wi-Fi are the most important bills that you will have to deal with when living in Greece. If you are living in an apartment building, you will also receive a monthly bill for maintenance expenses that you share with the other tenants or homeowners.
Unlike some other places in Greece, Thassos has a steady power network with few power outages. If you buy your own home, you will obtain electricity by signing up at the local DEI (ΔΕΗ), the electricity provider office. You will need your passport and AFM number to do that. The same applies to the local water company. Here you will also bring your meter number.
When you rent a home, it is important that you arrange for the bills to be issued in your name. That means that you change the name of the previous tenant on the bills.
Make sure to cancel your utilities contracts at the end of your lease. If you don't, the next tenant could move in and use electricity and water while the accounts are still in your name, making you responsible for paying someone else's bill!
---
AFM (tax identification number)
To rent or buy a house, to apply for electricity, or to open a bank account, you need a personal tax identification number in Greece. This is called the AFM (ΑΦΜ). It is, therefore, essential to arrange your AFM as soon as you arrive in Greece.
---
Taxes
If you are going to work for a Greek employer, spend more than 6 months in Greece, or are self-employed, and you make money in Greece, you will need to pay taxes in Greece. If you belong to one of these categories, you need to verify if your home country has a tax treaty with Greece. Because double taxation regulations between Greece and other countries prevent you from paying tax in two different places for the same income. Greek taxes for small businesses and the self-employed are relatively high. If you are going to pay taxes in Greece, it's wise to hire a local accountant.
---
Bank account
To open a Greek bank account, you'll go to the bank in person with your passport and AFM tax number. Whatever Greek bank you'll choose, do check the conditions because all Greek banks charge administration fees for international transfers and third-party ATM withdrawals.
---
AMKA number
Another important number to apply for is the AMKA, the Greek Social Security Identification Number. You receive an AMKA number if you are going to be employed by a Greek company or claim Greek benefits. You do not need an AMKA if you are a retiree and receive your pension from another country.
You need a temporary AMKA number to get your free Covid-19 Booster shots in Greece
You also need an AMKA number for subsidized (through public insurance) medication.
---
Driving license
If you have a driving license from an EU or EEA state, you can use your license without any restrictions. Third-country nationals (including UK citizens) need to switch to a Greek driving license.
---
Greek phone number
Getting a Greek sim card is very easy. Just visit a phone provider with your passport. The rates between the different phone providers in Greece are comparable. Depending on your needs, you can buy a monthly plan or choose a top-up card. COSMOTE has the biggest and most reliable network coverage on Thassos with better mobile signal and higher 4G speeds.
---
Set up Wi-Fi
Once you settle in your new home, you will be able to set up Wi-Fi. This may take a while so be patient. There are a wide variety of providers in Greece, the 2 active players on the island are COSMOTE (best, most reliable) and FORTHNET.
---
Education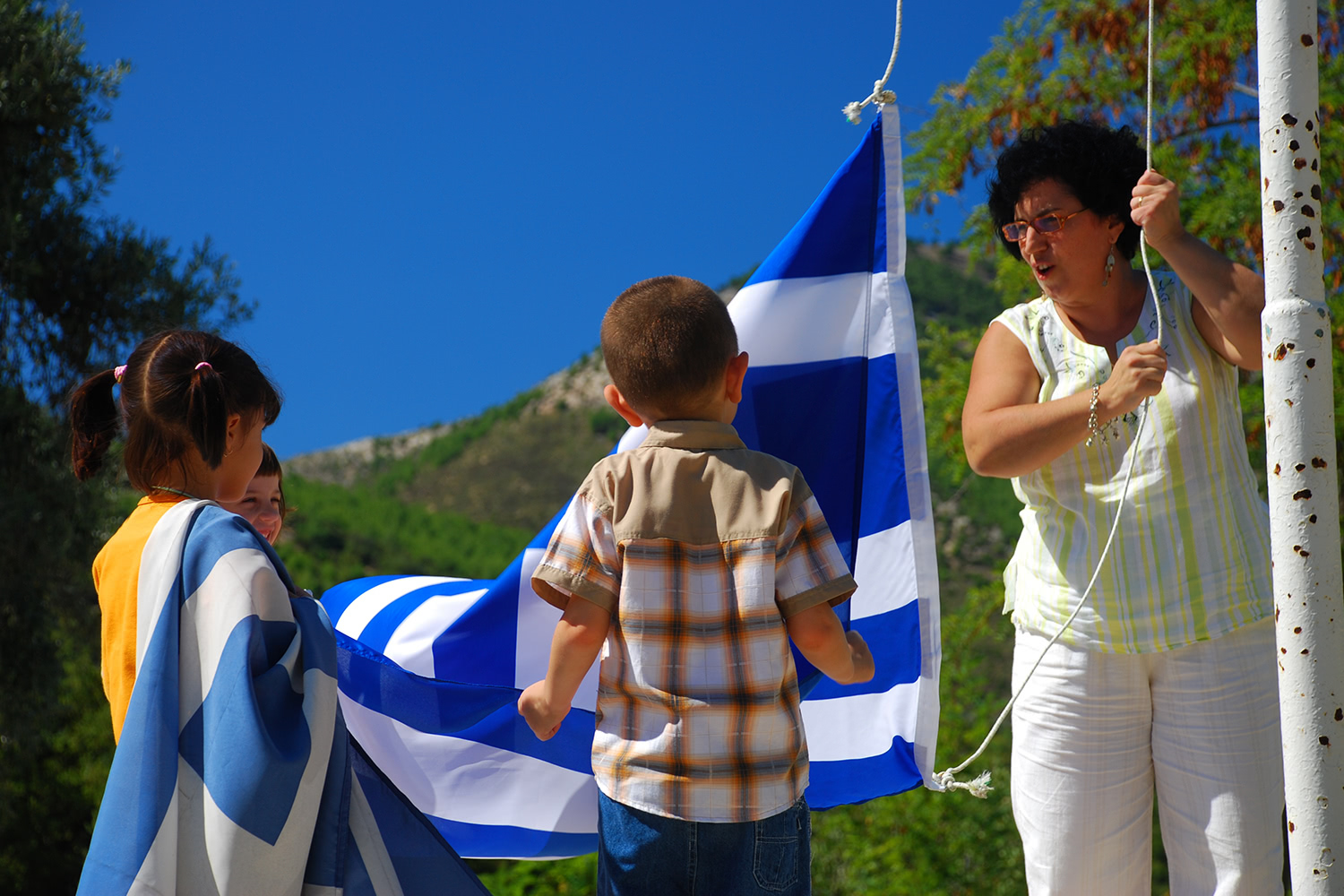 If you are moving with your family to Thassos, you should know that there are several public schools in Thassos located in the North and South of the island. These primary and secondary state-run schools offer free education, including tuition and textbooks. There are no private schools or international schools in Thassos.
---
Learn some Greek
It is wise to take a Greek language course before you come to Greece. Greeks generally speak good English, but to really integrate into society and find work or friends successfully, knowledge of the Greek language is indispensable.
---