How to travel to Thassos
Where is Thassos?
Thassos is the northern-most Greek island in the Aegean sea and sits just 6 nautical miles from the coast of Greece. It's incredibly easy to get to the island on your own, thanks to:
Frequent daily ferry crossings all year long at very low prices
Two international airports conveniently located on the nearby mainland
Quick and direct access to the ferry ports via the Egnatia Highway (E90)
---
Thassos Ferries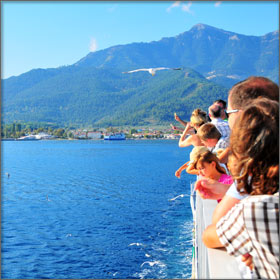 Unlike many other Greek islands that have a very limited number of daily ferry crossings, Thassos has dozens of crossings every day during the summer season and provides the ultimate convenience to its travelling visitors.
Several Roll-on/Roll-off ferries operate throughout the year and carry passengers, cars, buses, motorcycles, trailers, and just about anything else that has legs or wheels. They exclusively serve the island of Thassos and do not travel to any other Greek islands.
Keramoti - Limenas (Thassos Town) is the shorter, faster, cheaper, more popular and most frequent route with a journey time of just 40 minutes.
Kavala - Skala Prinos is the longer and slightly more expensive alternative, but it serves its purpose very well. Depending on how you're travelling and where is your final destination on Thassos, this route may offer you more convenience. It also provides an easy way to visit Kavala during your Thassos holiday for a lovely city tour or a fun night out. Journey time is 1 hour 15 minutes.
Thassos Ferry Schedules and Prices
---
Travel By Airplane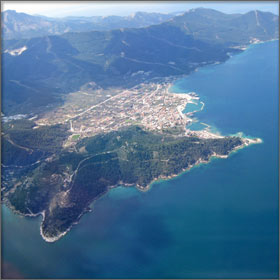 Thassos does not have its own airport, but is served by two international airports on the nearby mainland.
Both airports are connected to the ferry ports by an excellent road and highway network, making the journey after you have landed very simple and straight-forward.
Choosing your arrival airport will mostly depend on where you are coming from and the flights that are available from your hometown or other place of departure.
Kavala International Airport "Alexander the Great" (KVA) is the nearest (and smaller) airport, promising you the shortest and most direct route to Thassos island. Although there are only a few direct flights to here, it's a mere 15 minute drive from the ferry port in Keramoti.
Directions from Kavala Airport to Keramoti Ferry Port
Thessaloniki International Airport "Macedonia" (SKG) is the furthest (and larger) airport, which requires a scenic 2 hour drive to get to the ferry port in Kavala and 2 hours 30 minutes to reach the ferry port in Keramoti. As it is the larger airport of the two, you'll find that many more flight options are available.
Directions from Thessaloniki Airport to Kavala and Keramoti Ferry Ports
After you search for flights and decide at which airport to arrive, you'll need to consider the next part of your journey: getting to a ferry port!
You have 3 options from which to choose: rent a car, hire a taxi, or take a bus.
---
Rent a Car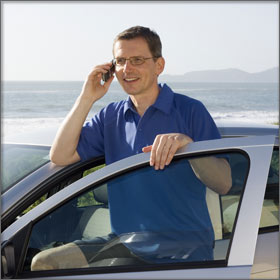 If you've chosen to fly into Kavala International Airport, we suggest hiring a taxi to save money and time on your journey to Thassos.
If you'll be flying into Thessaloniki International Airport and you are a medium budget traveller, renting a car may be the best option for you. The drive from Thessaloniki's airport to Kavala and Keramoti is really easy to make due to the excellent road network and the Egnatia highway (E90). The route is extremely direct and you won't have to worry about navigating busy city streets.
There are several car rental companies on the island that can arrange a car for you to pick up at the airport. We recommend booking a car in advance to ensure an effortless and smooth journey.
Car Rental Companies for Thassos-bound Travellers
---
Hire a Taxi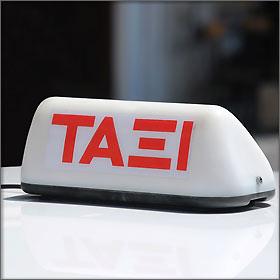 If you've chosen to fly into Kavala International Airport, hiring a taxi is the best option for you. A taxi can be waiting for you at the airport to help with your luggage and then quickly transport you right up to the ferry. By hiring a taxi, you'll avoid the extra expense of a ferry ticket for a car rental and gas.
From Thessaloniki International Airport, hiring a taxi is more expensive than renting a car, but it offers more convenience and ease.
Assuming that all luggage can fit in the boot, a group consisting of up to four people can fit in one taxi. Five or more people and those with lots of luggage will need to hire multiple taxis.
There are excellent taxi services that can transfer you between the airports and ferry ports in comfort.
Taxi Services for Thassos-bound Travellers
---
Book a Shared Transfer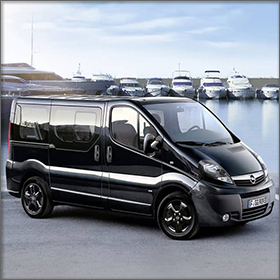 Book a seat on an airport shared transfer that will take you directly from Thessaloniki's International Airport (SKG) to the ferry port in Keramoti and vice versa!
Please note that the journey times are scheduled based on demand and that the availability is very limited especially during the peak season July/August. You will need to book your seat at least 48 hours before you arrive to Thessaloniki. Currently available from/to Thessaloniki Airport only.
Book your seat today!
---
Take a Bus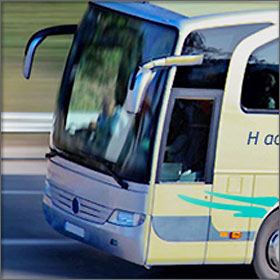 There are no bus services between Kavala International Airport and the ferry ports.
If you are a budget traveller coming via Thessaloniki International Airport, this is the best choice for you. You will first need to take a city bus from the airport to the city's central bus station. There you will purchase a bus ticket for Kavala and take the 2 hour journey to Kavala's central bus station. The ferry port in Kavala is just a 10 minute walk from the bus station.
Be sure to use express routes for the quickest and most direct journeys, as they avoid multiple and frequent stops in Thessaloniki and small villages along the way.
If you wish to travel by bus to the ferry port in Keramoti, you'll need to take two more buses: one from Kavala to Chrissoupoli, then another from Chrissoupoli to Keramoti. There are no real benefits by doing this. It will increase your travel time and costs.
Thessaloniki to Kavala Bus Schedule and Prices
---
Additional Information
We want your journey to Thassos to be as easy and direct as possible. We have an entire section in our forum for this topic. Do you have any questions?
Ask the community!
Have you travelled to Thassos before? Do you have some useful travel information that you think should be on this page? We want to hear from you!
Email us!